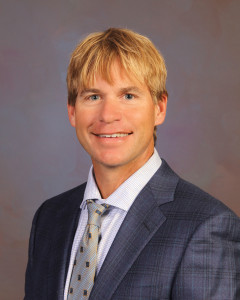 Andreas M. Sauerbrey, MD is a Board Certified Fellowship Trained Orthopaedic Surgeon who specializes in Shoulder/Upper Extremity Surgery, Sports Medicine and Joint Restoration. He is highly trained and experienced in Arthroscopic Procedures for the Shoulder, Knee, Elbow and Wrist and reconstructive bone and joint procedure caused by trauma and arthritis. He has special interest in Shoulder Arthroscopy and Reconstruction and Biologic Treatments including PRP and Growth Factors. He acts as a scientific advisor and instructor to several prominent Orthopaedic Companies and Industries.
After graduating from Bend Senior High School with Honors, he attended Point Loma Nazarene College where he received several awards and scholarships. He completed his medical degree in 1992 from Oregon Health Sciences University, his Orthopaedic Residency at the University of Colorado, and subsequently performed fellowship training in Shoulder and Elbow surgery at the prestigious University of Pennsylvania followed by Hand Surgery at Thomas Jefferson University in Philadelphia. Being Fellowship Trained in Upper Extremity and Sports Medicine has allowed Dr. Sauerbrey to take care of Olympians and other competitive athletes with a high level of expertise.
Dr. Sauerbrey became a partner at Orthopaedics of Steamboat Springs (link) in 2001 and has been taking care of patients in the Yampa Valley since. He joined Rural Partners in Medicine (link) in 2012 and became a founding partner for Aspen Mountain Medical Center (link) in Rock Springs, WY in 2015. Practicing Rural Medicine is important to Dr. Sauerbrey as he continues to develop his outreach practices in Colorado, Nebraska and Wyoming.
Andreas M. Sauerbrey, M.D. has been a team physician for the USSA (United States Ski and Snowboard Assoc.) and the US Ski Team since 2001. Dr. Sauerbrey has travelled the world with the US Freestyle Ski Team annually since 2002 and was chosen to be the Freestyle Ski Team Physician in 2009 for the 2010 Vancouver Olympics and the 2009 and 2011 Freestyle World Championships.
Dr. Sauerbrey has served as Chief of Surgery at Yampa Valley Medical Center (link) and continues to help direct the future of medicine in the valley. He cares deeply about the quality and affordability of local health care and remains ambitious to promote a vertically integrated Orthopaedic Health Care delivery system. His time is also devoted to teaching local seminars and writing instructional articles to share his experience and expertise.
More recently, Dr. Sauerbrey has been advancing his knowledge and techniques in biologic treatments for ligaments, tendons and joints. With the longest and most extensive experience with Platelet Rich Plasma (PRP) in the valley, he continues to research and advise on products expanding this exciting technology. He hopes to further promote the bodies' natural healing processes with biologic treatment alternatives for soft tissue and joint injuries.
In his spare time, Dr. Sauerbrey enjoys the outdoors, kite surfing, skiing, and biking with his wife, Lisa, and two children, Max and Morgan.